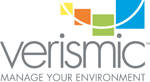 ALISO VIEJO, CA–(Marketwired – Dec 17, 2014) – Verismic — a global provider of IT management solutions delivered from the cloud — has been named a Best U.S. SaaS Product finalist in the 2014-15 Cloud Awards Program, an international program which has been recognizing and honoring industry leaders, innovators and organizational transformation in cloud computing since 2011.
Verismic's Syxsense — an agentless, cloud-based IT management software solution — is revolutionizing the way IT professionals manage endpoints. While most IT endpoint management products require agents that can take months to deploy, constant maintenance and risk conflicting with existing software, CMS is agentless. This capability enables the system to be operational in minutes, providing a first-of-its-kind agentless solution in the cloud. The innovative technology reduces the complexity of IT management, requires only a web browser to deploy and can easily scale up to as many as 10,000 endpoints.
"It has been an exciting year for us with the launch of Syxsense," says Verismic President and CEO, Ashley Leonard. "Being named a Best U.S. SaaS Product finalist from the 2014-15 Cloud Awards is a significant achievement."
More than 300 organizations entered this year's Cloud Awards, with entries coming from across the globe, covering the Americas, Australia, Europe and the Middle East. Final category winners will be announced on Tuesday, Jan. 27.
For more information on Verismic's innovative and award-winning Syxsense, visit www.syxsense.com.
ABOUT VERISMIC: Verismic Software, Inc. is a global industry leader providing cloud-based IT management technology and green solutions focused on enabling greater efficiency, cost-savings and security control for users, all while engaging in endpoint management. Headquartered in Aliso Viejo, Calif., Verismic is a growing and dynamic organization with offices in four countries and 12 partners in nine countries. Over the past two years, Verismic has worked with more than 150 companies ranging from 30 to 35,000 endpoints delivering a variety of solutions for organizations of all sizes as well as managed service providers (MSPs). Verismic's software portfolio includes the first-of-its-kind agentless, Syxsense ; Power Manager; Software Packaging and Password Reset. For more information, visit www.verismic.com.
CONTACT INFORMATION
CONTACT:
Leslie Licano
Beyond Fifteen Communications
949-733-8679
[email protected]